Druk car rental Pvt.Ltd (Amen Bhutan Tours Vehicles Company) Office, located in the heart of the serene Himalayan kingdom (Thimphu), is your premier destination for reliable transportation solutions. With a diverse fleet tailored to Bhutan's unique terrains, we prioritize safety, comfort, and eco-friendliness. Our team, comprised of seasoned professionals, ensures a seamless rental experience, guiding you to the ideal vehicle for your journey. Whether you're exploring urban landscapes or venturing into rugged mountains, our vehicles are equipped to enhance your Bhutanese adventure. Trust in Druk Car rental for unparalleled service and a commitment to making your travels in this mystical land truly unforgettable.
Vehicles Description
Nestled in the majestic Himalayas, Bhutan is a realm of unparalleled beauty and ancient traditions. As this kingdom gracefully straddles between preserving its rich heritage and embracing modernity, the transportation sector stands testament to this balance. Bhutan Vehicles brings to the forefront the best of both worlds, offering a fleet of modern, efficient, and environmentally-friendly vehicles, tailored to traverse the country's unique terrains. Whether it's a journey through winding mountain roads or an urban expedition in Thimphu, our vehicles ensure reliability, safety, and comfort. With Bhutan Vehicles, you're not just choosing a mode of transport; you're investing in a seamless Bhutanese experience, where every journey echoes the country's ethos of sustainable development and cultural preservation. Choose Bhutan Vehicles, and redefine your Himalayan adventure.
Also, Bhutan, often revered as the 'Last Shangri-La', beckons tourists with its pristine landscapes, ancient monasteries, and a unique philosophy centered around Gross National Happiness. As the influx of tourists has steadily increased, so has the need for dependable and comfortable transportation. Tourist vehicles in Bhutan are specifically designed and curated to cater to the needs of international travelers. These vehicles range from luxury SUVs and sedans, ideal for navigating the urban landscapes of Thimphu and Paro, to rugged, off-road vehicles apt for the winding mountain roads leading to places like Punakha or Bumthang. Ensuring both safety and comfort, these vehicles come equipped with modern amenities, professional drivers familiar with the terrain, and often, guides well-versed in Bhutan's rich tapestry of history and culture. The emphasis is always on sustainability, echoing Bhutan's commitment to environmental conservation, which means many vehicles also focus on reduced emissions and eco-friendliness. With a blend of traditional Bhutanese hospitality and modern efficiency, these tourist vehicles serve as a traveler's trusted companion, making journeys across this Himalayan kingdom as memorable as the destinations themselves.
Vehicles Type
In Bhutan, the choice of travel vehicles varies according to group size and terrain. For individuals or small groups up to 4, sturdy and comfortable SUVs like the Hyundai Tucson and Toyota Prado are preferred, ideal for navigating both city roads and rugged mountain paths. Medium-sized groups of 5 to 8 passengers typically use the reliable and spacious Toyota HiAce van, offering comfort and practicality. Larger groups of 9 to 15 often travel in the capacious Toyota Coaster bus, which combines comfort with the necessary durability for Bhutan's landscapes. For groups exceeding 16, larger tourist buses are employed, ensuring comfort, safety, and enjoyable group travel experiences across the diverse and beautiful terrain of Bhutan.
01-2 Pax Basis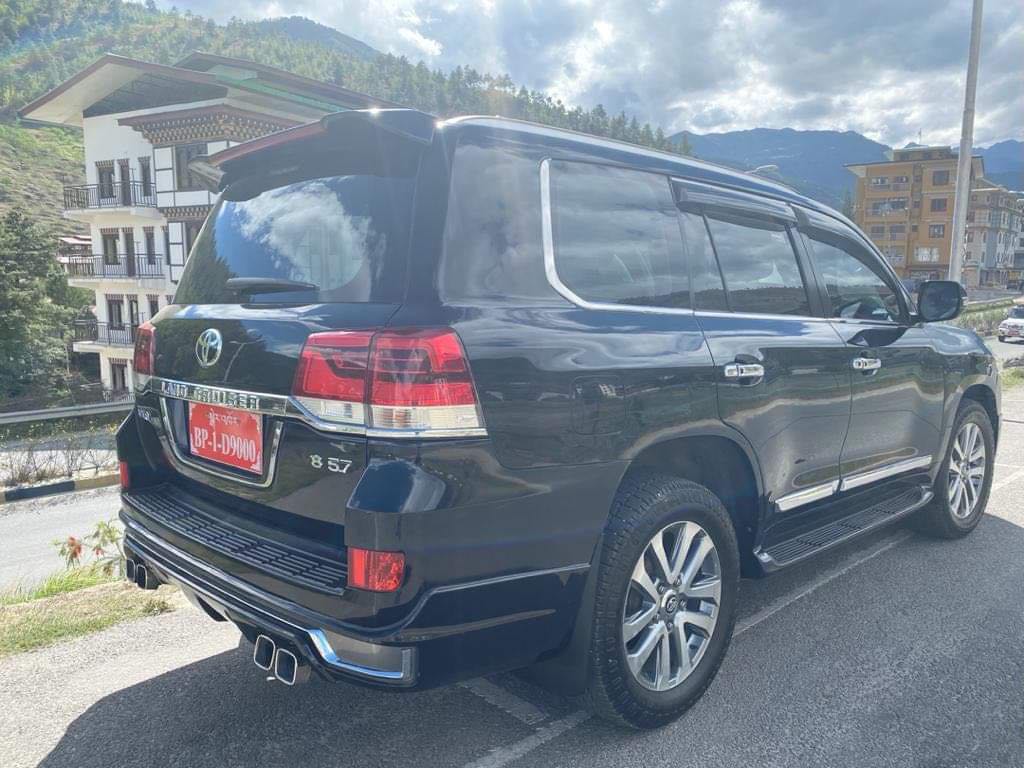 In Bhutan, for 1-2 passengers (Pax) seeking a comfortable travel experience, there are specific car types commonly used that balance the need for luxury, safety, and the ability to handle the often rugged and winding mountain roads. Here are the details:
Toyota Prado:
Seating: Comfortably seats 1-2 passengers with ample luggage space.
Features: Air conditioning, plush seating, modern infotainment system.
Terrain Handling: Excellent for both urban areas and mountain roads.
Hyundai Santa Fe:
Seating: Suitable for 1-2 passengers with spacious trunk space.
Features: Climate control, leather seats, advanced safety features.
Terrain Handling: Efficient in cities and performs well in hilly terrains.
Suzuki Ciaz:
Seating: Ideal for 1-2 passengers; spacious interiors.
Features: Air conditioning, ergonomic seating, and modern entertainment system.
Terrain Handling: Best suited for city travel; can handle shorter mountain routes.
Hyundai Tucson:
Seating: Comfortable for 1-2 travelers with enough space for luggage.
Features: Advanced safety features, climate control, and integrated infotainment.
03-05 Pax Basis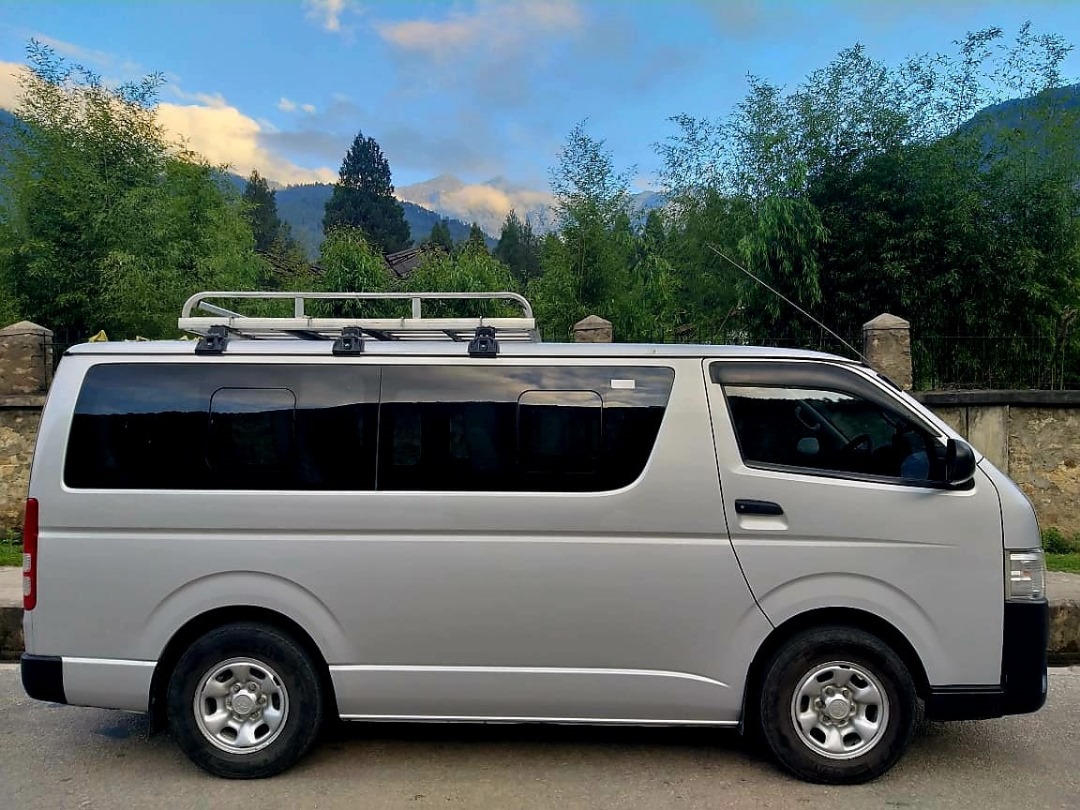 As of last update in April 2023, for small groups of travelers (3-5 passengers) traveling in Bhutan, the types of vehicles typically offered by Bhutanese travel agencies or tour operators usually depend on the group's size, the nature of the travel (luxury, standard, or budget), and the road conditions of the planned itinerary.
SUVs: These are popular for small groups, providing comfort and good handling on Bhutan's mountainous terrain. Vehicles like Toyota Land Cruisers or similar SUVs are often used. They offer a comfortable ride with good viewing opportunities and are well-suited to Bhutan's winding roads.
Minivans: For a slightly larger group or for those requiring more space for luggage, minivans like the Hyundai H1, Toyota HiAce, or similar models are a good choice. They offer more space and comfort, especially for longer drives.
Luxury SUVs or Sedans: For travelers looking for a more luxurious experience, some high-end tour operators might offer luxury vehicles such as high-end Toyota or Lexus SUVs and sedans. These vehicles provide a more comfortable and stylish travel experience but would typically cost more.
06-08 Pax Basis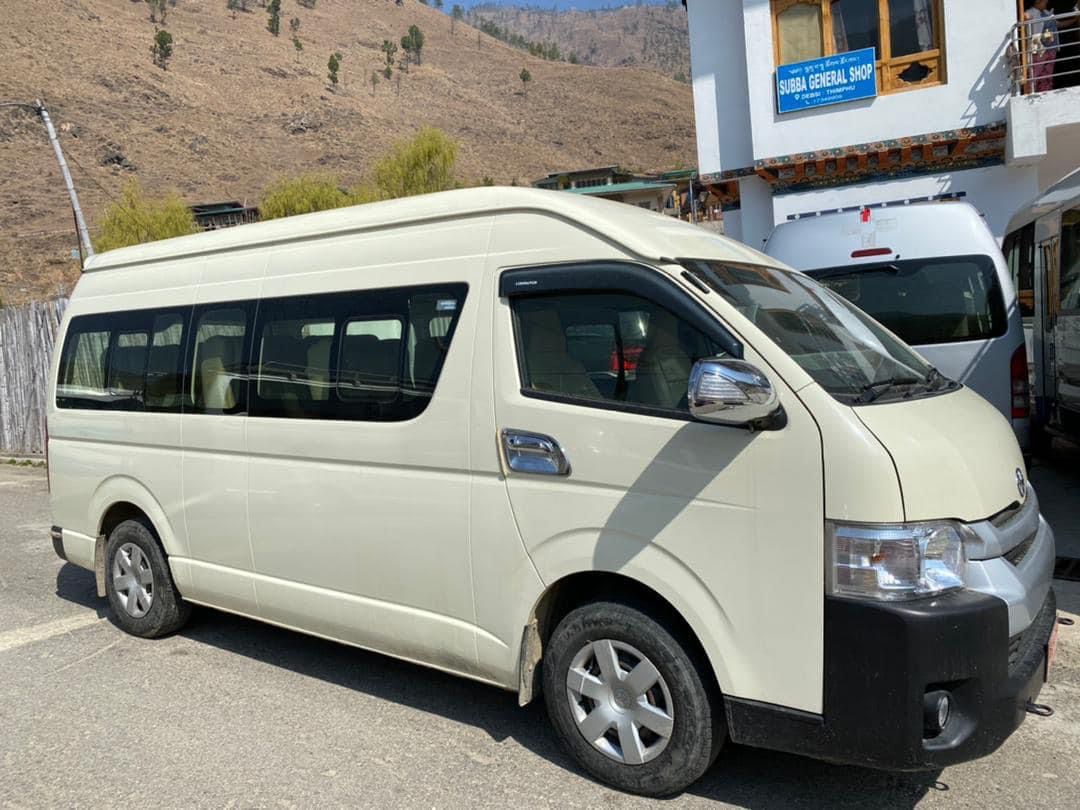 For a group of 6 to 8 passengers traveling in Bhutan, travel companies typically arrange larger vehicles to accommodate the group comfortably along with their luggage. The most common types of vehicles used for a group of this size are:
Mini Coaches or Vans: These are the most likely options for a group of 6-8 people. Vehicles such as the Toyota HiAce or Hyundai H1 are popular choices. These vans can comfortably seat around 8-12 passengers and are ideal for small groups traveling together. They offer good space for both passengers and luggage, making them suitable for longer journeys across the country.
Larger SUVs: In some cases, especially if the group requires more luxury or if the itinerary involves more challenging road conditions, larger SUVs (like the Toyota Land Cruiser Prado or similar) might be used. In these instances, two vehicles might be provided to accommodate all passengers comfortably.
Microbuses: For slightly larger groups or for added comfort, a microbus can be a suitable option. These vehicles have more seating space and can comfortably accommodate groups of 6-15 people, depending on the model. They're well-suited for long drives and provide ample space for both passengers and luggage.
Availability: The availability of specific vehicle types can vary and might be influenced by seasonal demand, maintenance schedules, and other logistical factors.
It's advisable for travelers to communicate their specific needs, comfort levels, and any other preferences to the travel agency or tour operator. This communication ensures that the agency can make the best arrangements, keeping in mind the group's size, the nature of the terrain, and the overall travel experience sought. Also, check for the latest updates and offerings, as vehicle fleets and services can evolve.
09- 15 Pax Basis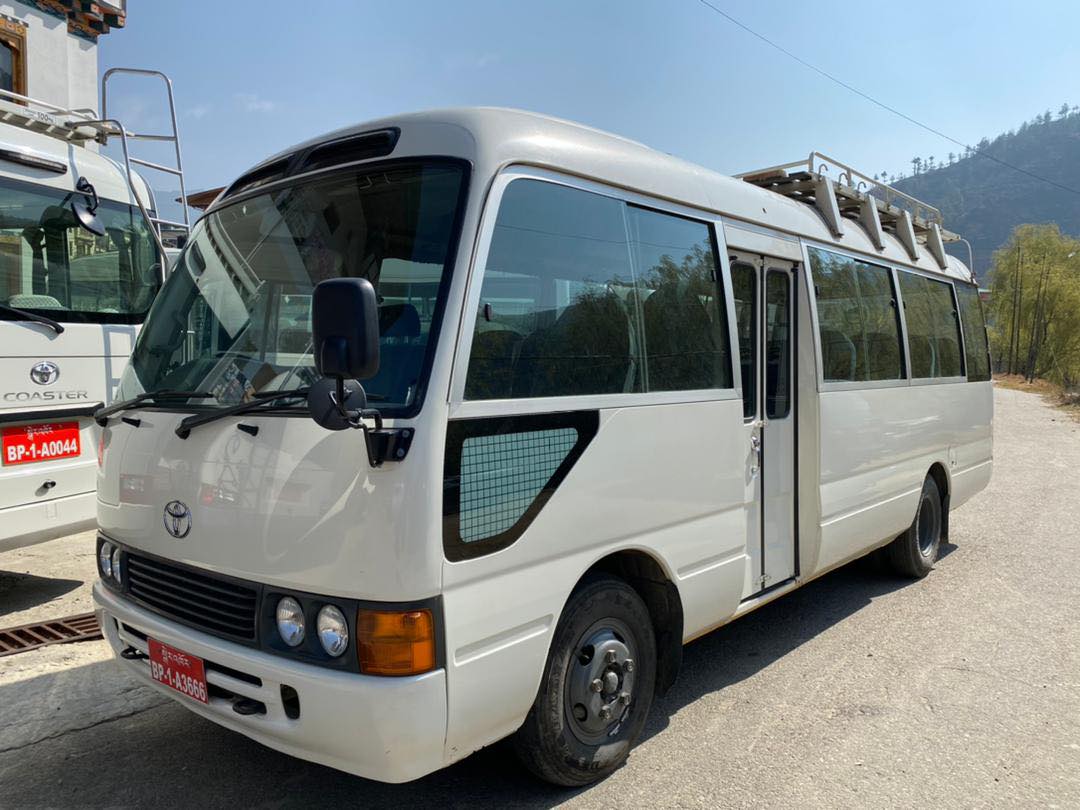 For a group of 9 to 15 passengers traveling in Bhutan, Bhutanese travel companies typically offer larger buses or coaches to ensure comfortable travel with adequate space for passengers and luggage. Here are some common vehicle options for such a group size:
Mini Buses/Coaches: For groups between 9 and 15 passengers, mini buses or small coaches are usually the most practical option. These vehicles can provide comfortable seating, often with air conditioning, adequate legroom, and space for luggage. Models like the Toyota Coaster or Hyundai County are popular choices.
Coster Bus:
For groups ranging from 9 to 15 people planning a tour in Bhutan, utilizing a Toyota Coaster bus offers an optimal blend of comfort, space, and practicality. This vehicle, renowned for its reliability and sturdy construction, is particularly well-suited for navigating the mountainous and winding roads of Bhutan. The Coaster typically seats around 20-23 passengers, meaning a group of 9-15 will have ample space not just for themselves but also for any luggage or equipment they might be carrying. This extra space can enhance the overall comfort, particularly on longer journeys between destinations like Thimphu, Paro, Punakha, and others.
The spacious, air-conditioned interior of a Coaster ensures that passengers can enjoy the scenic beauty of Bhutan in a comfortable environment, a definite plus considering Bhutan's varying climate. The vehicle is also reliable across different types of terrain, which is crucial given that some tourist attractions might be located in areas with more challenging road conditions.
Using a single large vehicle like the Toyota Coaster can also be more economical and environmentally friendly for group travel, reducing the per-person cost and the group's carbon footprint compared to using multiple smaller vehicles. Additionally, traveling together in one vehicle fosters a sense of camaraderie and can make coordinating the tour easier, as the entire group moves together from one location to the next, ensuring that no one misses out on any experiences or gets separated from the group.
When planning a group tour with a Toyota Coaster in Bhutan, it's essential to consider and confirm the accessibility of your chosen destinations. While the Coaster is adept at handling most terrains, certain remote or particularly rugged areas might not be suitable for a vehicle of its size. It's also wise to book this type of transportation well in advance, particularly during peak tourist seasons, to ensure availability. The comfort, combined with practicality, makes the Toyota Coaster an excellent choice for medium-sized groups touring the enchanting and mystical landscapes of Bhutan.
16 Pax Basis and Above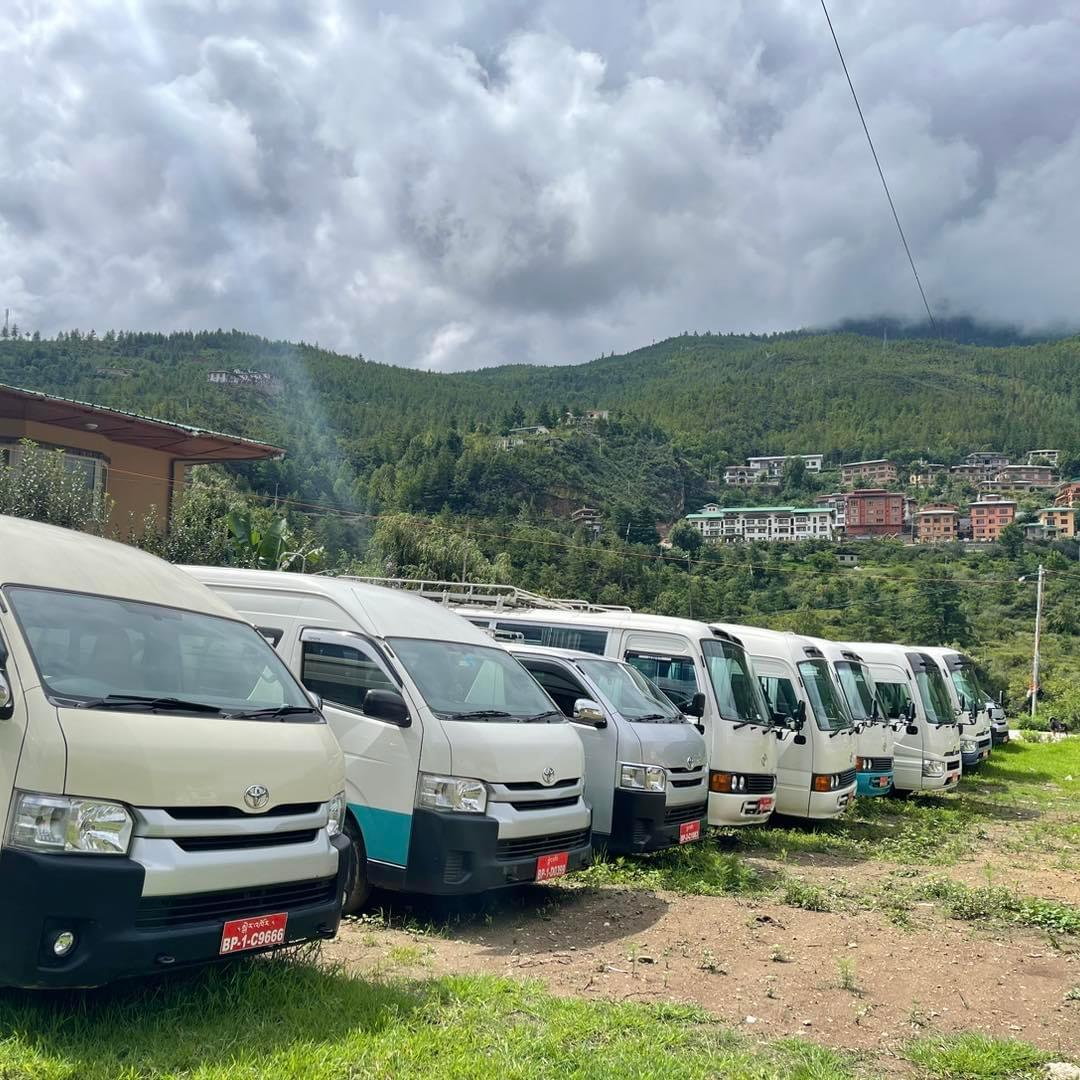 For travelers in groups of 16 or more, Bhutanese travel companies typically offer larger buses to accommodate the size of the group comfortably and to ensure efficient logistics. When it comes to larger groups, the primary concerns are comfort during long journeys, ample space for luggage, and ensuring that the group stays together for convenience and ease of communication. Here are the usual types of vehicles offered:
Multiple Coasters or Mini Buses: If the group size is marginally above the Coaster's capacity or if there's a preference for smaller vehicles, the travel company might suggest using multiple Coasters or other mini buses. This arrangement can offer more flexibility, especially if the itinerary includes areas where navigating larger buses can be challenging.
While a Toyota Coaster is an excellent choice for medium-sized groups (up to around 15-20), for groups of 16 and above, it's more practical and comfortable to consider larger buses or multiple vehicles. Discuss your group size, itinerary, and specific needs with your Bhutanese travel agency to find the most suitable and comfortable transportation solution.
In conclusion, when traveling in Bhutan, choosing the right vehicle is crucial for ensuring a comfortable and enjoyable journey, especially given the country's diverse terrain and road conditions. For smaller groups or individual travelers, comfortable SUVs like the Hyundai Tucson or Toyota Prado offer the perfect combination of comfort and capability. Medium-sized groups of around 6 to 8 people are often best served by spacious and reliable vans such as the Toyota HiAce, ensuring everyone travels together with ample space for luggage. Larger groups of 9 to 15 passengers typically find the Toyota Coaster bus ideal for their travels, providing a balance between space and convenience. However, for even larger groups of 16 or more, full-sized tourist buses or multiple smaller buses become necessary to accommodate everyone comfortably. These choices allow travelers to enjoy Bhutan's stunning landscapes and cultural experiences in safety and comfort, no matter the size of their group or the specifics of their itinerary. With the right vehicle, the journey through the Land of the Thunder Dragon becomes an integral and memorable part of the travel experience